The Ultimate Guide to a Weekend in Sedona
Cabin fever is a reality for many right now! Research shows that droves of American's are hopping in their cars and taking road trips to easy-drive to destinations that are safe and secluded with access to national parks, natural attractions and socially-distanced outdoor activities.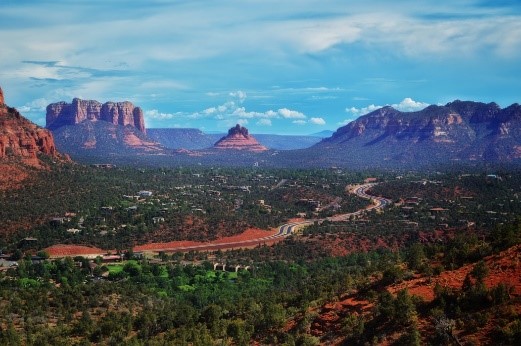 From the first sight of the towering red rocks, you're sure to fall in love with Sedona! You could spend all weekend in the great outdoors, playing golf, or at a spa, or find the perfect balance that suits you. Sedona has so much to offer with millions of acres of national forest, state parks, dramatic landscapes, luxurious resort spas and world-class shopping, art galleries and dining.
In Sedona, you can have as much as action and interaction as you're comfortable with. Escape the crowds and hike or bike the Sedona trails, or soak up the buzz, shop, wine and dine in Uptown and the vibrant neighborhoods of Sedona. Whether it's a guys or gals weekend, a romantic getaway or a family vacation, Sedona is a popular weekend destination for escaping the city and appeals to travelers of all ages.
Here's how to spend the perfect weekend in Sedona
---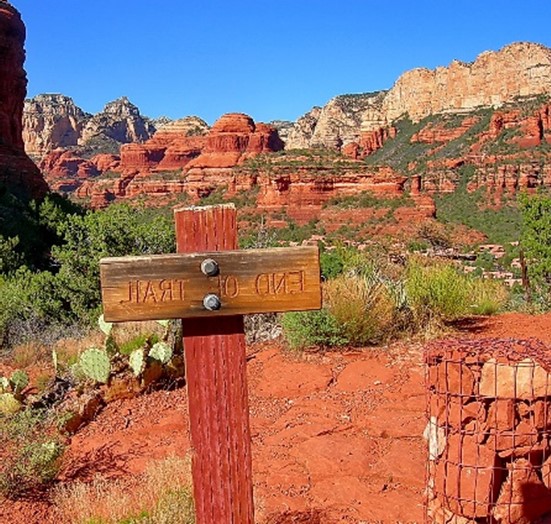 Hit the Trails: The most popular Sedona trails for a quick weekend getaway are:
Devil's Bridge (moderate 4.2 miles, short, steep)
Bell Rock (easy 1.1 miles, bit of rock climbing)
Cathedral Rock Trail (challenging 1.2 miles, very steep)
Sugarloaf Loop (easy, 2 miles, panoramic views)

To explore Sedona's caves, the Soldiers Pass Trail (moderate 4.1 miles, caves and pools) passes the Devils Kitchen sinkhole and Seven Sacred Pools to the Soldiers Pass Cave. Another cool cave is the Birthing Cave, a sacred cultural site reached on an easy 2 mile trail from the Long Canyon Trailhead.
Sedona gets hot and the hiking and biking trails get busy! Maximize your time in Sedona's great outdoors and get to the trails early. A Red Rock Pass is required at certain day-use sites in the Red Rock Ranger District and can be purchased daily or weekly. If hiking and mountain biking are not your thing, take a Sedona tour!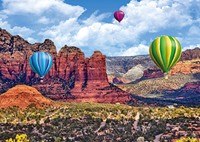 Take a Tour: Sedona is well-known for its amazing tours and knowledgeable local guides. Explore the trails on a famous open-air pink jeep tour, indulge in a private luxury limo tour of Sedona's top attractions or take to the skies in a helicopter or hot air balloon. Hiking, biking, mountain biking, horseriding or rafting, there's a local guide to show the way. Be sure to book in advance to secure your spot, weekends in Sedona get busy!
Spiritual Vortexes: Many visitors to Sedona are drawn by beliefs that the energy vortexes, once used for the spiritual ceremonies of the Native Sinagua Indians, promote healing and inner peace. The most popular Sedona vortexes to visit are Cathedral Rock at Red Crossing, Bell Rock, Boynton Canyon and Airport Mesa. The Chapel of the Holy Cross is listed on the National Register of Historic Places and is one of Sedona's top attractions.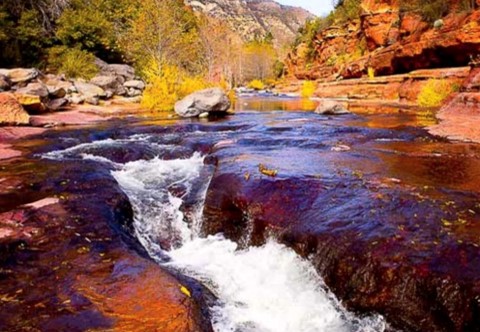 Cool off in the Water: Whether creek swimming at Red Rock Crossing, cliff jumping at Grasshopper Point in Oak Creek, slipping and sliding at Slide Rock State Park or rafting through the Verde River Valley, there's plenty of "cool" natural swimming holes in Sedona. The Crack at Bell Point is off the beaten path and requires a 3.3 mile scenic hike on the Historic Bell Trail to a deep oasis for swimming and cliff-jumping.
Step Back in Time: Sedona boasts a rich and storied history that has stood the test of time. Today, visitors to Sedona can discover the well-preserved cliff dwellings, historic pictographs and national monuments dedicated to preserving Native American culture. It's only a short drive from Sedona to the historic mining towns of Jerome ("Wickedest Town in the West") and Old Cottonwood.
Spa Treatment: Sedona is not only a top destination for outdoor adventures, it's been named one of the top wellness destinations in the world by TripAdvisor! An indulgent spa treatment is the perfect way to separate your morning of outdoor adventures from an afternoon of shopping and sunset dining in Sedona.
Shopping & Markets: Shopping in Sedona is an experience in itself. Visit the art markets and galleries, gift shops, unique boutiques and Sedona's landmark Tlaquepaque Arts & Shopping Village for a unique shopping experience.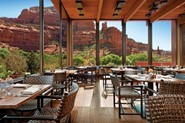 Best Places to Eat: Sedona is fast becoming a destination for foodies with a diverse selection of down-to-earth coffee shops, outdoor dining with breathtaking views and pet-friendly patios. From food trucks to fine dining, creek-side romance to unique Uptown eateries, Sedona offers a culinary experience for all visitors. If safe and secluded is important, consider a private chef in the comfort of home. It is essential to book in advance for Sedona restaurants.
Sunrise, Sunsets & Stargazing: From sunrise to sunset, and beyond, Sedona's skies are simply spectacular! Sedona is a prestigious dark sky community and the night skies put on a display year-round. Whether you're picnicking at a trail head or soaking in your private hot tub, it's a sunrise, sunset and stargazing experience like no other.
Getting to Sedona: Sedona is a popular weekend getaway only 2 hours north of Phoenix and 45 minutes from Flagstaff. Sedona airport is only for private planes but you can fly into Phoenix or Flagstaff. There are airport shuttles to Sedona and car rentals, Uber and Lyft are easily available. If you're driving to Sedona, bear in mind that traffic can be heavy on the weekends.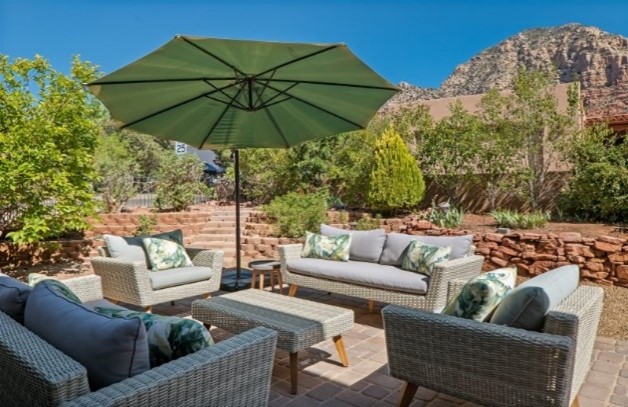 Where to Stay in Sedona: Staying in a vacation rental is the best option for a safe and secluded weekend in Sedona. Whatever the occasion, whatever the budget, Foothills Vacation Rentals offer over 100 Sedona vacation rentals to suit each and every visitor. Our Sedona homes range from cabin style studios on the creek to luxury Sedona rentals with a private pool and spa.

Whatever brings you on your weekend getaway to Sedona, our team at Foothills will help you find the perfect home-away-from-home.