Top Haunted Attractions in Sedona
Halloween is one of the most celebrated holidays in the US and a fun time of year with dress-up and costume contents, spooky Halloween décor, hand-carved jack-o'-lanterns, candy corn, hayrides and lots of hauntingly good fun. Children trick or treat in colorful costumes with an added dose of imagination and mystery, communities gather for special Halloween events and celebrations are aplenty when you visit Sedona for Halloween.
The historic buildings, ancient cliff dwellings, abandoned mines and ghost towns in Arizona's eerie desert landscapes tell spine tingling tales of old that send chills down your spine. Whether you're planning a family Halloween getaway with fun, family-friendly events and attractions or exploring Arizona's ghost towns for things that go bump in the night, be sure to add these top haunted attractions in Sedona to your vacation itinerary.

Dia de Los Muertos Celebration
Saturday, October 30th @ 4pm
The
Dia de Los Muertos Celebration
at Tlaquepaque Arts & Crafts Village is an annual Sedona festival that celebrates the Mexican tradition of honoring friends and family who have since passed. The Tlaquepaque Village is transformed into a celebration of life and remembrance with "Day of the Dead" festivities including creative costumes, live music, traditional food, fire dancers and face painting.
Haunted History Tour
Saturday, October 30th @ 3pm and 4:30pm
Take an open-air cemetery tour with the Sedona Heritage Museum for an hour of ghostly tales of unsolved murders and strange happenings. The
Voices from the Grave
cemetery tour takes you back in time with re-enactments by acting pioneers that gives you a clear glimpse in the history of Sedona. These tours are very popular and reservations must be made in advance.

Safe & Fun Trick or Treat
Sunday, October 31st @ 5pm - 8pm
Dress up and join the community for the Annual Safe & Fun Trick or Treat event in uptown Sedona. This safe, fun, family-friendly and free event happens on Main Street Sedona where merchants dress up in extravagant Halloween attire and warmly welcome the community and visitors to Sedona to their stores with plenty of Halloween candy and festive cheer.
Haunted Halloween Express
Dress up for a journey through the towering canyon walls and scenic red rocks to the Perkinsville Ghost Ranch on the Verde Canyon Railroad. The Verde Canyon Railroad Haunted Halloween Express is a thrill-filled adventure for all ages where you're accompanied by ghouls, ghosts, goblins, goodies and creepy prizes with front row seats to some of the most spectacular scenery in the Verde Valley and gorgeous fall foliage.
Fort Verde State Park
The Fort Verde State Park is located on the banks of the scenic Verde River in Camp Verde, 27 miles south of Sedona. The park dates back to 1865 and is the best preserved example of an Indian War period fort in Arizona with original buildings and frontier relics, three historic house museums with original antique furnishings and living history tours allowing visitors to experience life through the eyes of a frontier soldier.
Clear Creek Church & Cemetery
The Clear Creek Church and Cemetery is another top Haunted attraction in Camp Verde. The historic church was built in 1898 and served the community until 1913 when it was transformed to a schoolhouse, and later abandoned. The adjoining graveyard is the resting place of some of the valley's most noted pioneers and rumor has it a ghostly apparition moves through the headstones in the graveyard.
Day Trip to Jerome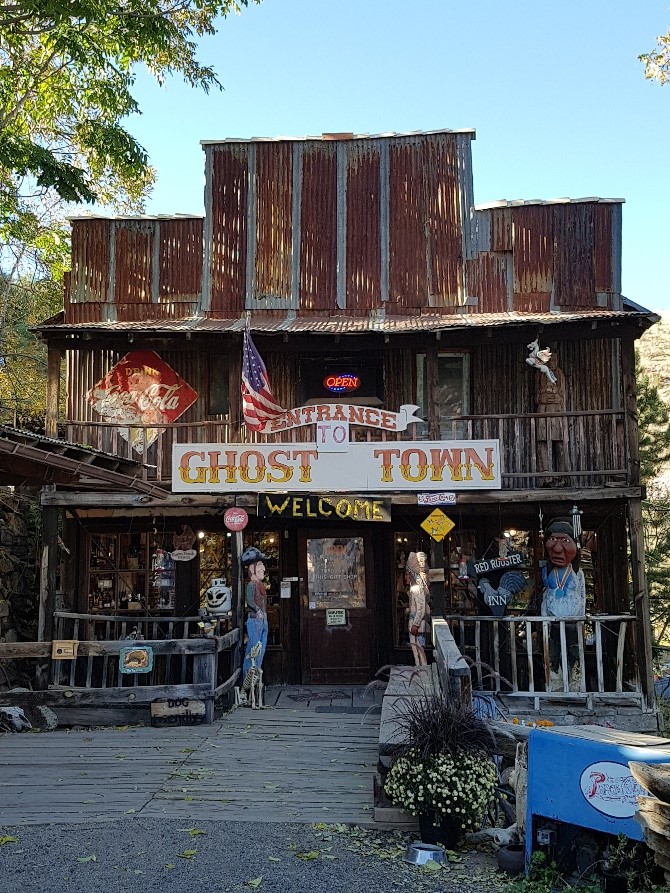 Jerome is one of Arizona's most famous ghost towns and goes all out for Halloween! This historic mining town is built on Cleopatra Hill overlooking the Verde Valley and is known as the "Wickedest Town in the West" with many ghost tours that reenact the mysteries of this ghost town allowing visitors to discover Jerome's top haunted attractions. The Jerome Grand Hotel was opened in 1926 and was once one of the most modern hospitals in the Western US. There were many gruesome deaths in this infamous hospital turned hotel with some saying that the restless spirits and ghostly presences grace the hallways of the hotel and the haunted Asylum Restaurant still today. Other haunted attractions in Jerome include the deserted minutes and museums at the Gold King Mine & Ghost Town, the overgrown Old Miner's Cemetery with headstones dating back to 1897 and the Jerome State Historic Park. Be sure to stop in at the quirky Haunted Hamburger Restaurant for a double haunted burger and the famous Spirit Room on Main Street, hopefully with no uninvited guests!

Scenic Drive on Route 66
Route 66 is one of the most famous roads in the US, known as "Main Street of America" and "The Mother Road". This historic highway runs through Arizona from the city of Flagstaff east to the Petrified Forest National Park. Travel from Sedona through Oak Creek to Flagstaff and head east on Route 66 towards Holbrook. This scenic stretch travels past 1000-year old abandoned ruins and decrepit towns with a wild west heritage of cowboys, outlaws and infamous gunfights.
The top Arizona attractions along Route 66 include the Elden Pueblo, Twin Arrows and Two Guns trading posts, Canyon Diablo ghost town, Meteor Crater and Observatory, Meteor City, Homolovi Pueblos, Ella's Frontier trading post and Bucket of Blood Street and Saloon. The Petrified Forest National Park is located just outside of Holbrook, the only national Park with a section of the historical Route 66.

Where to stay in Sedona for Halloween
There's nothing haunted about our Verde Valley vacation rentals! Foothills Vacation Rentals have been welcoming visitors to Sedona and the Verde Valley for over 30 years and boast one of the largest inventories of rental properties in the Verde Valley. From quaint stone cabins on Oak Creek and luxury hilltop retreats with spectacular Sedona views to spacious family homes nestled in the foothills in the historic town of Cottonwood, we'll find you a safe space to spend your 2021 Halloween in the Verde Valley of Arizona.