The Ultimate Guide to Wine Tasting in Sedona
---
The Verde Valley Wine Region is one of Arizona's most popular wine destinations and boasts over 30 vineyards and tasting rooms all within 25 miles of scenic Sedona.
The first Verde Valley vineyards date back to the 17th century, started by the Franciscan missionaries who discovered this scenic high-altitude oasis nestled in the Oak Creek and Verde River greenbelts with an abundance of sunshine, rich soil and the perfect conditions for flourishing grape vines.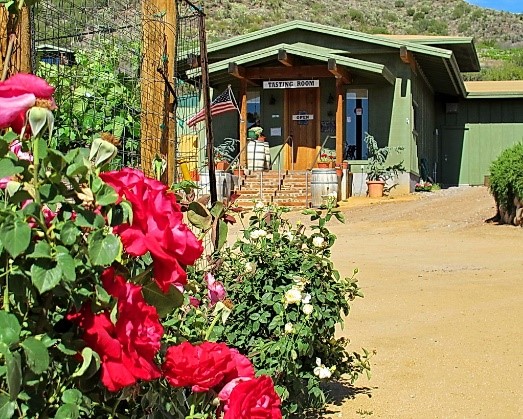 Today, Sedona is surrounded by thriving vineyards, tranquil tasting rooms and a community of wine connoisseurs passionately restoring Arizona's wine history.
A Sedona wine experience is an idyllic addition to a romantic getaway, girls' weekend, bachelor/bachelorette party and even your family vacation in Sedona. Tempt your palate, savor local flavors and sip your way through the beautiful valleys, lush greenbelts and soaring red rocks surrounding Sedona.
Vineyards & Wineries near Sedona, AZ
---
Sip local at the charming tasting rooms in downtown Sedona, take a scenic drive through the canyons and breathtaking Verde Valley wine country on a DIY tasting experience, or book a unique Sedona wine tour to discover the hidden gems along the
Verde Valley Wine Trail.
Distance from Uptown Sedona: 15 Miles
1555 N. Page Springs Rd. Cornville, AZ
Phone: (928) 660-6935
Kid & Pet-friendly
Oak Creek Vineyards & Winery is set in a peaceful, relaxing setting on Oak Creek. The Oak Creek tasting room is open daily for visitors to drop in, sip locally grown wines, dine on healthy eats and indulge in decadent cheesecake from the vineyard kitchen. Relax, unwind and savor every sip from the pet-friendly outdoor patio with gorgeous vineyard views.
Distance from Uptown Sedona: 15 Miles
1565 N Page Springs Rd Cornville, AZ
Phone: (928) 649-2681
Kid & Pet-friendly
Javelina Leap is a small, boutique winery located next to Oak Creek Vineyard, one of the longest running wineries in the Verde Valley with the largest wine tasting bar in northern Arizona. Pair award-winning Arizona wine with charcuterie boards or gourmet flatbreads in the authentic saloon-style bar, Arizona Room Bistro or Secret Garden and take a relaxed tour of the vineyards overlooking Oak Creek.
Distance from Uptown Sedona: 15 Miles
1500 N Page Springs Rd Cornville, AZ
Phone: (928) 639-3004
Kid & Pet-friendly
Page Springs Cellars is located less than half a mile south of Javelina Leap. From gourmet food and wine pairing in the Tasting Room & Bistro and live music on the shaded front veranda, to exclusive vineyard tours, creekside massages and yoga classes, Page Springs Cellars offers a unique wine experience with award-winning Arizona wines on the scenic banks of Oak Creek.
Distance from Uptown Sedona: 15 Miles
1901 Dancing Apache Road, Cornville AZ
Phone: (928) 301-0791
Kid & Pet-friendly
DA Ranch is a boutique vineyard nestled on the banks of Oak Creek. This beautiful estate has a unique charm with a cozy indoor bar, wrap-around-porch, lush vineyards, sprawling lawns to gather, a tree swing for perfect photo opportunities, a fire pit for cooler evenings and regular live entertainment. DA Ranch is family and pet-friendly and offers regular tastings of their 100% estate-grown wines.
Distance from Uptown Sedona: 20 Miles
1023 N Main St, Cottonwood, AZ
Phone: (928)-639-2789
The Arizona Stronghold Tasting Room lies in the heart of historic Old Town Cottonwood and is a popular local hotspot with flights of authentic Arizona fine wines and ports paired with a tapas style menu of small bites and delicious deserts. If you're staying in Cottonwood, stop in on a Friday night for live music, good vibes, warm hospitality and some of the best wines in Arizona.
Distance from Uptown Sedona: 20 Miles
1019 N Main St Cottonwood, AZ
Phone: (928) 487-1555
Winery 101 is a small, family-run tasting room on the Verde Valley Wine Trail with tasty flight samples of over 20 varieties of red, white and sweet handcrafted wines from two local Arizona cellars and a laid-back fun atmosphere with fun wine tasting events like Fizzy Friday, Saturday Sippin' and live music.
Distance from Uptown Sedona: 20 Miles
1040 N Main St Cottonwood, AZ
Phone: (928) 649-8733
Another Old Town Cottonwood favorite is Burning Tree Cellars, Arizona's premier award-winning craft winery. Indulge in an unparalleled Verde Valley tasting room experience with an inviting indoor lounging area and spacious outdoor patio to relax and sip on a fine selection of boutique wines from local Arizona vineyards.
Distance from Uptown Sedona: 20 Miles
1012 N Main St, Cottonwood, AZ
Phone: (928) 639-0646
The Pillsbury Wine Company produces some of Arizona's finest wines and received over 16 honors in the recent 2021 American Wine Awards. The Pillsbury Wine Tasting Room in Old Town Cottonwood is open daily for wine lovers to sample the unique flavors, aromas and fine wines from the best local winemaker in Arizona.
Distance from Uptown Sedona: 20 Miles
Cottonwood, AZ Phone: (928)
Enjoy a casual wine tasting experience and sample award-winning sustainable wines from Carlson Creek Vineyard at the Carlson Creek Tasting Room in historic Old Town Cottonwood. Gather with friends at the custom barrel stave bar, sip on a Sangiovese or crisp Chardonnay and listen to local bands in another of Cottonwood's top tasting rooms.
Distance from Uptown Sedona: 27 Mile
1001 N Main St, Cottonwood, AZ
Phone: (928)-639-1001
The Merkin Vineyards is one of the best wineries near Sedona with a tasting room and osteria in Old Town Cottonwood. Sample the unique Italian and Spanish blends from their Verde Valley vineyards and Italian inspired farm-to-table dining with wood-fired pizza, handmade pasta and delicious Gelati and Sorbet.
Distance from Uptown Sedona: 20 Miles
918 N Main St Cottonwood, AZ
Phone (928) 634-2266
Last, but not least, for wine hopping in historic Old Town Cottonwood is Tantrum Wines. Tantrum Wines is a hidden gem with a unique story that led female winemaker, Brighid McLouglin, to create wines that "give us room to be ourselves, free to explore, reflect and enjoy". The eclectic tasting room is unique allowing you to step away from reality, savor flights of rich aromatic craft wines and tasty tapas and create fun, lifelong memories with friends.
Distance from Uptown Sedona: 25 Miles
3445 S Grapevine Way Cottonwood, AZ
Phone: (928) 649-8463
Kid & Pet-friendly
The Alcantara Vineyards are in a picturesque hillside setting surrounded by limestone cliffs and ancient dwellings where Oak Creek joins the Verde River. One of the largest vineyards in Arizona, Alcantara produces an outstanding selection of over 25 unique reds, whites and dessert wines annually with regular tastings, VIP tastings and complimentary tours. For a unique Sedona wine experience, book a massage on the banks of the river, picnic on the private beach or plan your visit around their fun live music line ups on the patio and lawn area.
Sedona Wine Bars & Tasting Rooms
---
There's no need to travel far to experience Arizona's award-winning wines in Sedona. You'll find an enticing selection of wines hand-harvested from local vineyards in the restaurants, wine bars and tasting rooms in Uptown Sedona and the surrounding neighborhoods.
Our top suggestions for a wine tasting adventure in Sedona are The Art of Wine and Winery 1912 in Uptown Sedona, VinoZona and the Secret Garden Café in the Village of Tlaquepaque, Vino Di Sedona in West Sedona and the Decanter Tasting Room in the Village of Oak Creek.
Sedona Wine Tours
---
Including a vineyard tour or wine tasting experience to your Sedona itinerary is must, and there's an abundance of Sedona wine tours to choose from -
romantic date nights
in the vineyards, behind the scenes and hands-on harvest tours,
private chauffeur driven tours
or a unique Sedona winery experience with a
float trip
down the scenic Verde River.
A fun way to experience Sedona's thriving wine scene is on the
AZ Wine Crawler
, an exclusive hop-on-hop-off shuttle service through the Verde Valley Wine Country. The shuttle has five hop on locations in Sedona and Cottonwood and visits 17 Verde Valley wine destinations including Sedona's top vineyards, tasting rooms and breweries. Be sure to book ahead for your Sedona wine experience.
Luxury Sedona Lodging
---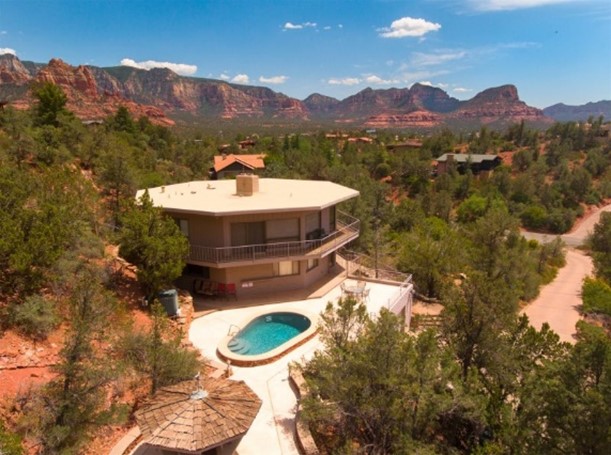 Enhance your Sedona wine tasting experience even further with
luxurious, private lodging
only minutes from the Verde Valley Wine Trail's top attractions.
Soak up views of Mingus Mountain from your private
Spanish Hacienda
or
family vacation home
minutes from the award-winning Oak Creek vineyards in Cornville, stay close to the tempting tasting rooms in historic
Old Town Cottonwood
or secure your own private
Sedona sanctuary
with dramatic red rock views near Uptown Sedona.