Sedona on a Budget
---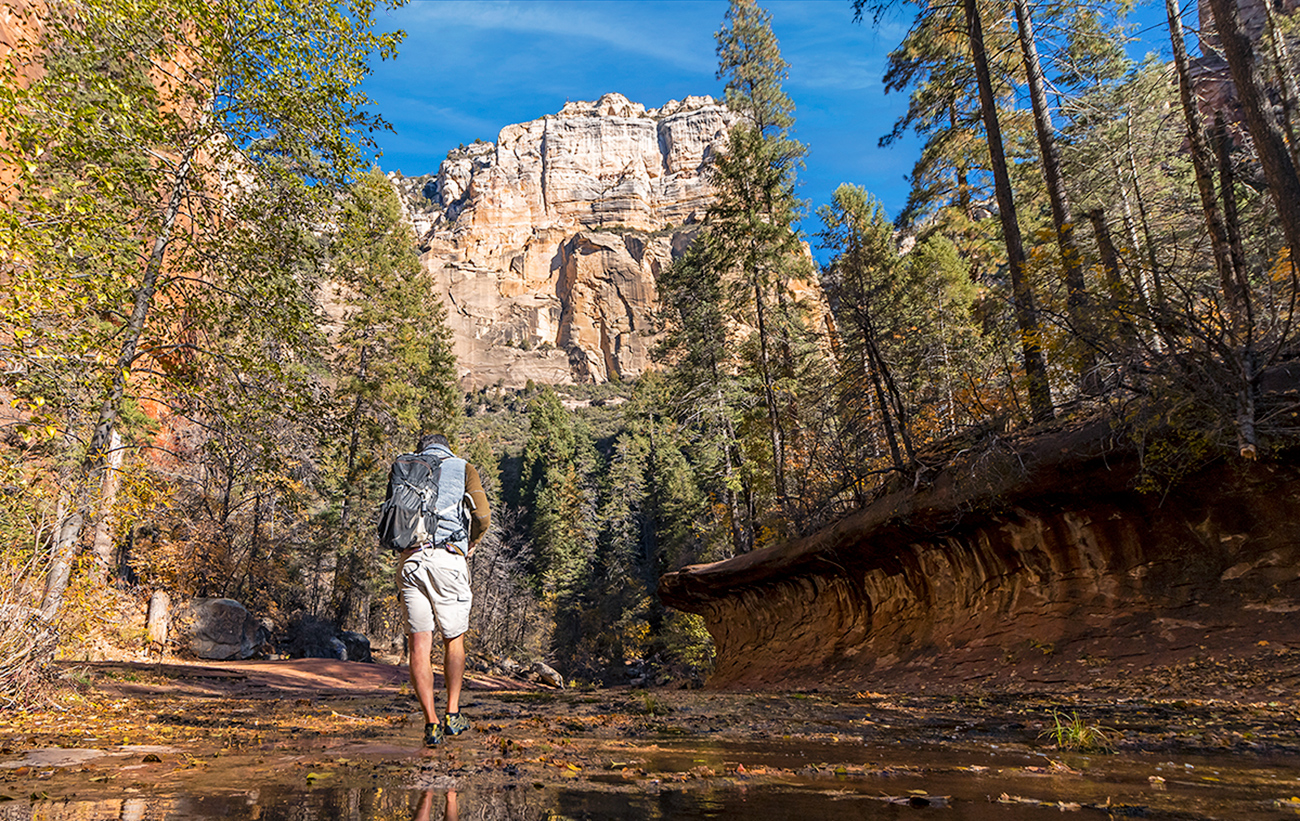 Sedona is not a destination that springs to mind when planning a budget vacation, but it's possible!
There's plenty of ways to experience the beauty of Sedona without breaking the bank. Trade exclusive helicopter tours for scenic drives, pink jeep adventures for epic hikes, high-end patio dining for creekside picnics, spa days for a rejuvenating soak in Oak Creek, and luxury resorts for a
cozy Sedona condo
with all the comforts of home.
Sedona's top attractions are not only the top-rated tours, but the awe-inspiring
natural wonders
they lead to! Pack a good pair of hiking boots, fill up the gas tank (that will need a bit of budget!), pick up an affordable
Red Rock Pass
(Daily $5, Weekly $15) and create your own unique experiences in Sedona.
Stroll on Main Street
---
Sedona Main Street is pedestrian-friendly with wide sidewalks lined with cafes, scenic courtyards, unique stores and galleries, and perfectly placed benches to soak up the spectacular red rock views. It's a great place for retail therapy, but also for window shopping,
gallery browsing
and people watching. Explore the side streets with several buildings on the National Register of Historic Places and learn the history of Sedona at the
Sedona Heritage Museum
(Adults $7, Children under 13 free).
Tlaquepaque Arts & Crafts Village
---
Tlaquepaque Arts & Crafts Village
is a charming Mexican village and living arts community that will have you browsing for hours! Nestled on a former sycamore grove on the banks of Oak Creek, this scenic Sedona landmark has quaint cobblestone walkways, stone archways, vine covered patios, over 40 unique shops, galleries and eateries, and
ongoing activities and free events
. There's lots of temptation at Tlaquepaque so leave the credit card at home!
Hike to Sedona's Vortex Sites
---
Exploring Sedona's top vortex sites is not exclusive to a Sedona tour! Sedona has
four energy vortexes
that are easily reached on Sedona's top hiking trails. The Airport Mesa vortex is closest to Sedona and the easiest vortex to reach with a few different trail options (or you can park and walk 500 feet) and the Bell Rock vortex is reached on a short 1.1 mile out and back trail that is great for mountain biking, and is
family-friendly for the kids
!
The next vortex stop is Cathedral Rock vortex, only a short 1.2 mile out and back hike but requires a tricky rock scramble to reach the vortex, leave the kids and pets at home for this one! The Boynton Canyon vortex is a short drive from Sedona near Enchantment Resort, reached on one of Sedona's most scenic trails surrounded by wildlife, red rock cliffs, and raw beauty. Some feel the vibe of the vortexes, others put it down to the abundant beauty of Mother Nature.
Amitabha Stupa & Peace Park
---
The Amitabha Stupa & Peace Park is one of the oldest forms of sacred architecture on earth, and one of the
most visited attractions in Sedona
! It's a unique Sedona experience with Buddhist stupas, a Native American medicine wheel, peaceful hiking trails, and tranquil Sedona views for quiet times of reflection and renewal. Entry and parking is free, but visitor donations to support the stupa are welcomed.
Chapel of the Holy Cross
---
The Chapel of the Holy Cross is an architecturally stunning Roman Catholic Church built into the red rocks of Sedona, an engineering marvel and one of Sedona's top cultural attractions. The church is visible from the Red Rock Scenic Byway – or you can visit
Chapel of the Holy Cross
for free, seven days a week!
Swimming Holes & Slides
---
Spend the day swimming in Oak Creek!
Slide Rock State Park
and
Grasshopper Point
are two of Sedona's favorite swimming holes with natural slides, hiking trails to explore, and picnic areas for budget-friendly creekside dining surrounded by Sedona's striking red rocks. It's the perfect (and affordable) way to spend a summer day in Sedona. Both parks have a small park entrance fee for day use.
Scenic Drives from Sedona
---
Whichever direction you travel from Sedona, you're guaranteed a
scenic drive
. Travel south on the Red Rock Scenic Byway from Sedona through the Village of Oak Creek with the natural splendor of Sedona visible at every turn, scenic overlooks, and famous Sedona landmarks along the way including Cathedral Rock, Bell Rock and Chapel of the Holy Cross.
Traveling north on scenic 89A leads you along winding roads through Oak Creek Canyon to the Oak Creek Vista overlook with spectacular photo opportunities along the way. For the ultimate Sedona day trip (you'll have to break the budget!), continue on to the southern rim of Grand Canyon National Park.
Sedona Sunsets & Stargazing
---
And now for our favorite
free things to do in Sedona
– watch a Sedona sunset and stargaze our star-spangled skies. Splurge a little and watch the sunset from an
outdoor patio
or pack a picnic and head to the Airport Mesa Overlook, a top spot to watch the sun go down in Sedona. Sedona is an international dark sky communities and the skies are spectacular wherever you lay your head!
Affordable Luxury in Sedona
---
Foothills Rentals represent over 100 of the finest vacation rentals in Sedona and have a vacation home for every size, style, and budget! Our selection of
affordable and budget-friendly rentals
are located in Sedona's top neighborhoods and start as low as $80 per night. From cozy cabins on the creek and golf course condos on the fairways to charming homes in the heart of Uptown Sedona, you'll find
affordable luxury in Sedona
with Foothills!